Happening Now:
IT IS ALMOST SPRING! We are already enjoying longer days and it just keeps getting better! Soon, the desert will be bright and colorful after our early winter storms gave us much needed moisture.  Meanwhile, hoping for even more rain and a refreshed snowpack for the mountains to see us through summer. 
BEST WISHES TO YOU FOR THE SPRING DAYS AHEAD. PLEASE BE KIND TO THE LAND AND EACH OTHER. STAY SAFE AND WELL. LEAVE NO TRACE. FIND YOUR JOY. LIVE! LAUGH!!
Please consider a gift that lasts, the gift of open land and recreation access! All donations raised are used to protect special places in southwestern Utah, such as the PINE VALLEY MEADOWS. Click on "GIVE NOW" to support these important projects. There are links below for more information, and CHECK US OUT on FACEBOOK.COM/VirginRiverLand
LOOK FOR US AT UPCOMING EVENTS:
SORRY, THERE ARE NO EVENTS PLANNED AT THIS TIME…
Expanding protection in Pine Valley Meadows
Virgin River Land is working with landowners in Pine Valley to acquire additional conservation easements and expand the protection of the meadows. As 2021 came to a close, an additional 20 acres of meadowland was protected, bringing the total to 100 acres! This spring we hope to add more. VRLPA sends the most sincere THANK YOU to the private landowners who cherish the history and pastoral tranquility of Pine Valley…and who are protecting these qualities for all of us to enjoy. We also thank the STATE of UTAH Quality Growth Commission for their funding support to protect unreplaceable special places in southern Utah!

Sheep Bridge successfully purchased!!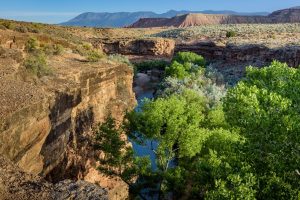 Virgin River Land sends the most sincere THANK YOU to The Nature Conservancy of Utah for successfully completing the purchase of the Sheep Bridge Crossing property in May of 2020. The broad support for this important project made the difference, in particular the numerous private donations ranging from a few dollars to many thousands, attracting the final funding needed to finish the acquisition.
THANK YOU if you you are one of those private donors because you helped make this happen!!
We also shout out another sincere THANK YOU to the landowners who so generously made this purchase possible.
You can read TNCs June 2, 2020 press release below:Sheep_Bridge_PR_20200602

.