Happening Now:
SPRING IS ALMOST HERE! Lots of people are headed outside, decompressing from whatever level of quarantine they endured.  Winter isn't done with us yet…hoping for some more rain and deeper snowpack for the mountains to see us through summer. 
PLEASE BE KIND TO THE LAND AND EACH OTHER. STAY SAFE AND WELL. LEAVE NO TRACE. FIND YOUR JOY. LIVE! LAUGH!!
Please consider a gift that lasts, the gift of open land and recreation access! All donations raised are used to protect special places in southwestern Utah, such as the SHEEP BRIDGE CROSSING property. Click on "GIVE NOW" to support these important projects. There are links below for more information, and CHECK US OUT on FACEBOOK.COM/SheepBridgeCrossing!
LOOK FOR US AT UPCOMING EVENTS:
SORRY, THERE ARE NO EVENTS PLANNED AT THIS TIME…
And now for the drum roll…. Sheep Bridge has been successfully purchased!!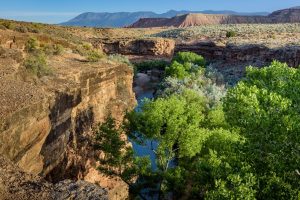 Virgin River Land sends the most sincere THANK YOU to The Nature Conservancy of Utah for successfully completing the purchase of the Sheep Bridge Crossing property in May. The broad support for this important project made the difference, in particular the numerous private donations ranging from a few dollars to many thousands, attracting the final funding needed to finish the acquisition.
THANK YOU if you you are one of those private donors because you helped make this happen!!
We also shout out another sincere THANK YOU to the landowners who so generously made this purchase possible and who granted a critical deadline extension to address the unusual funding times we all find ourselves in.
You can read TNCs June 2, 2020 press release below:Sheep_Bridge_PR_20200602

.